Mallee Birdbaths are specifically designed to serve birds. The copper dishes are broad and shallow, allowing birds to land on the edge and walk into the water. The baths are modern, elegant and durable. They are locally made in the Illawarra (NSW, Australia) using materials that will weather well and last decades. For help on which dish to choose, go here.
Unless otherwise marked our online prices include shipping around Australia. See our shipping Policy for more information.
For regular offers and information, please subscribe to our mailing list below.
In this video, a pair of young Crimson Rosellas show off the green plumage that they will lose as they grow older. There is something about the combination of deep blues, green and red that makes these birds a very attractive adornment to the native garden. Watch in full screen!
Angus Stewart from Gardening With Angus sets up his Large Spun Copper Dish amongst beautiful Kangaroo Paws. We hope lots of birds visit his dish!
Please note: the stand Angus is setting up is a medium stand, not a tall stand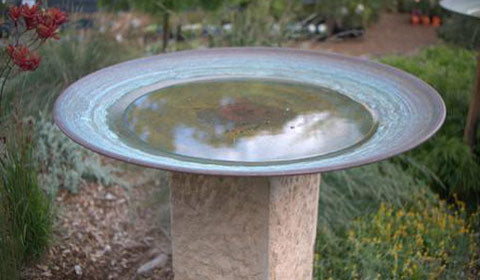 The benefits of copper
Not only does every dish age beautifully, developing a rich and detailed patina of varying colours, but copper has two other benefit: its antimicrobial properties upsets the mosquito lifecycle, and resist the growth of algae. So you can enjoy the benefits that a body of water brings to your garden without worrying about mosquitoes or slimy water.
Water features
Mallee dishes can be used to make stunning water features. There are a few different designs possible. Speak to your local landscaper or consult this page for our preferred design.